Alaskan Halibut, Clams and More ~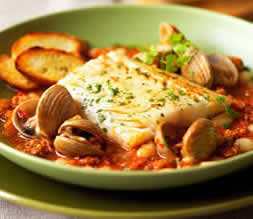 Alaska offers a smorgasboard of seafood delights including scallops, prawns & shrimp, cod, halibut, pollock, mussels, clams, king and dungeness crab, plus of course a variety of different type of wild Alaskan salmon. The Alaska natives up here say that "...when the tide is out, the table is set." Well, it's actually also true that delicious Alaskan seafood is now also available when the tide is in. Buy wild Alaska seafood and have it delivered
direct to your door now.
Fisherman Direct Wild Pacific Salmon, LLC
Wild Alaskan Halibut is caught in the deep, clean waters off of Alaska and flash frozen within hours of being caught. Halibut fillets are easy to prepare and go well with many great sauces or deep fry recipes. You'll taste the difference of Wild Alaskan Halibut shipped directly to your door. Halibut is an excellent source of high-quality protein and minerals, and low in sodium, fat, and calories.
Alaskan Halibut is by far America's #1 white fish. Its tender portions of white meat and delicious pure flavor make halibut a popular fish at any dinner table. Our Halibut fillets are boneless and are sent in beautiful 6 to 8 oz. portion, each vacuum packed and ready to prepare or freeze. Contact us about our Wild Seafood Call 1-503-435-8003 or E-mail us at WildPacificSalmon@hotmail.com