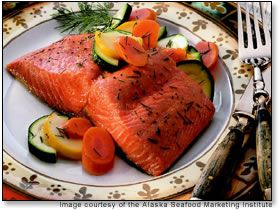 Wild and not farmed, Alaskan salmon is hand selected, expertly hand filleted, & then immediately flash frozen for the best possible fresh salmon taste and shipped overnight to your home or office. Wild Alaskan Salmon are super healthy & delicious!
Featured Alaska Seafood Businesses:
R&J Seafoods
Kenai Select Wild Alaskan Salmon
PO Box 39752
Ninilchik Ak 99639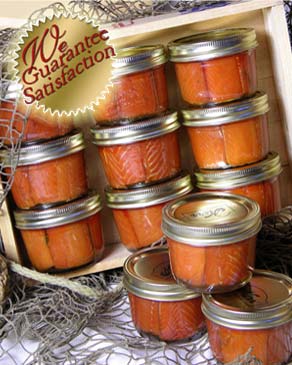 Leader Creek Fisheries, Seattle Office:
jmlowrance@yahoo.com
Phone: (206) 782-5456
Fax: (206) 706-2594
Why Leader Creek?
While there are other companies that provide a variety of different types of seafood, here at Leader Creek, we focus on Wild Alaskan Sockeye salmon and we do it right!
Leader Creek Fisheries is a cooperative between a group of fishers who are utilizing the highest quality standards and a processor that has cutting edge, state of the art filleting, freezing and packaging technology.
Visit our website at :
LeaderCreekFisheries.com

Snopac Products, Inc.
5053 East Marginal Way South
Seattle WA, 98134-2407
TELEPHONE (206) 764-9230
FAX (206) 764-5540;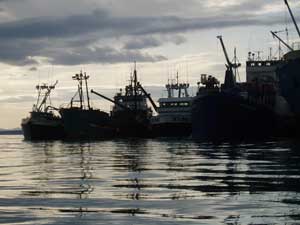 Health Benefits of Wild Alaskan Salmon
Alaska Wild Salmon provides Omega-3 to your diet which has been linked to the prevention of heart disease and other life threatening conditions. In addition, Alaska Wild Salmon do not contain dangerous levels of toxins such as as mercury.
These links provide information on salmon's Omega-3 preventive value for heart disease, cancers of the breast and prostate, and diabetes. Also provided are the recent research showing Alaska Wild Salmon contain no unsafe toxin levels such as mercury.

Heart Disease and Cancer Prevention
http://www.alaskaseafood.org/flavor/O3_cancer.pdf
http://www.omega-3info.com/lifedeath.htm http://www.femhealth.com/omega3fishoil.html http://www.vitaminexpress.com/drmurray/drmurraynewsletter2004_2_7.htm
Diabetes
http://www.alaskaseafood.org/flavor/omega3_diabetes.pdf

Nutrition Chart, including Omega 3 content, for Alaska Salmon and seafood:
http://www.alaskaseafood.org/flavor/nutrition2004.pdf
Mercury in Alaska Wild Salmon
Mercury and other toxic heavy metals build up over time in fish and marine mammals. The short life span of salmon precludes them from building up heavy metals like mercury. Coho salmon spend just 18 months at sea before returning to spawn, and king salmon just 24 to 36 months.
With such a short life span, Alaska Wild Salmon do not contain unsafe levels of mercury that may occur in larger, older aged-fish or sea mammals. Alaska Wild Salmon is safe to eat! See this report by the Alaska Department of Public Health:
http://www.epi.hss.state.ak.us/bulletins/docs/rr2004_11.pdf
Specifically, see page 4, regarding the very low levels of mercury in Alaska salmon.